I am an artist from Athens with a focus in computer animation and creative coding. Although I come from a strong background in visual effects, in my own practice I move away from the rigid constraints of photo-realism. I enjoy using the highly sophisticated tools of the industry in unconventional ways, often past their breaking point. Digital artifacts, mistakes or even the byproduct of other projects, often become the key ingredients in the work.
Over the years of working with computers, I have come to appreciate the power and beauty of programming, mathematics and the vast space they offer for artistic exploration. I am fascinated by how computers can scale up simple rules to produce complex patterns, many of which are even found in nature. Human's ability in recognizing patterns can be used as a visual language and convey emotions. The aim is to strike a balance between highly controlled systems and expressive bursts of randomness to create a visually compelling interplay between clean forms and textural chaos.
My animations have been screened in festivals around the world including Siggraph, Ars Electronica, Art Futura, One Dot Zero and ADAF. I have participated in several group art exhibitions and in 2014 I had my first solo show 'Monomorphia' in Athens .
I have been invited to present my work at the Institute of Architecture and Media of Graz University in Austria, the design conference Digitized in Athens and the games conference DevHour in Mexico City. In 2019 I gave a TEDx talk at the Ionian university about creative coding and digital tools.
I graduated with a first class honours degree and an award from the National Center for Computer animation in the United Kingdom. Since 2005 I have worked as a CG & FX lead on the visual effects for feature films, commercials and virtual reality experiences in London and Vancouver. I am currently based in New York working through my studio ch3 and in parallel I am teaching an animation class at the School of Visual Arts.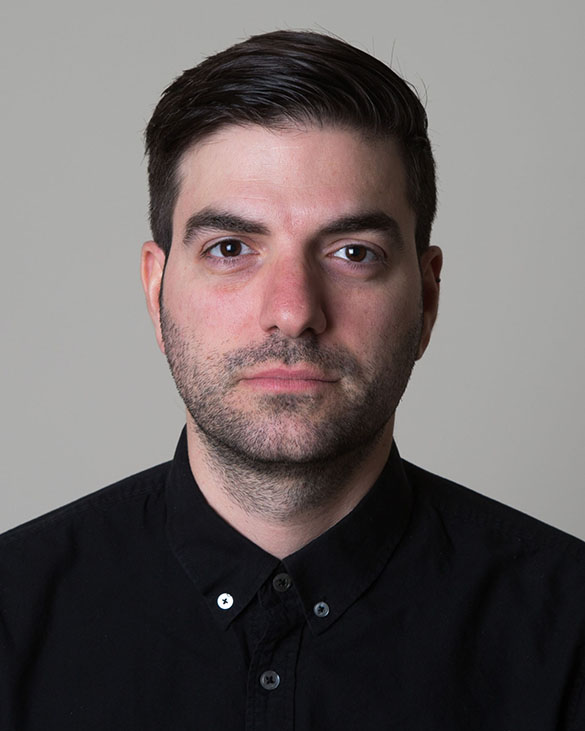 Contact
vimeo
IMDB
linkedIn
twitter
instagram
github
VFX Reel
Full CV
Exposure
Awards & Recognition
ADAF · 2nd in Web Art for Spam · Greece · Sep20
Assembly · 2st in combined demo category For Your Love · Finland · Aug18
Vimeo Staff Pick · Strange Jealousy · Jun18
Euskal · 1st in combined demo category for Mrs Escher's Nightmare · Spain · Aug14
Assembly · 1st in combined demo for Spin · Finland · Aug11
Vimeo Staff Pick · Erebus · Apr10
NCCA · Best thesis production award for Theros · UK · Nov05
GSAA by Stash magazine · Finalist Theros · Sep05
Select Festivals
SXSW · Stellar Scape video screening · Austin · Mar21
Ars Electronica ·Strange Jealousyin Music & Visuals · Linz · Sep19
Ars Electronica· Geophone in the Hybrid Technologies · Linz · Sep17
Athens International Film Festival · Alosis · Athens · Sep15
Siggraph · Alosis · LA · Aug15
Animasyros 7.0 · Alosis · Syros · Sep14
National TV documentary on animation · Theros · Greece · Jan11
Athens Video Art Festival · Erebus · Athens · May10
Siggraph · Theros · Boston · Aug06
OneDotZero 10 · Theros · London · Jul06
(Full list in the individual project posts)
Live Performances
ADAF · Manna performed virtually · Athens · Jul20
Mise-En Place · geoAudio · NY · Jul17
Exhibitions
Galerie La Box · Cybersyn 1973/2023 installation part of Infrahauntologies curated by Bassam El Baroni · Bourges · Oct21
Edith-Russ-Haus · Cybersyn 1973/2023 installation part of Infrahauntologies curated by Bassam El Baroni · Oldenburg · Jul21
Creative Code Festival · Manna screening at LightBox · New York · Nov20
Harpa Concert Hall· Participation with Tiny/Massive collective to illuminate the façade of the building · Reykjavik · Dec18
Saristra festival · Cefalonia · Aug16
Assembly Point · Synthetic Resonances · London · May16
ASIFA 70 years of Greek animation · Athens · Nov15
GIF Arts Festival · time offset gifs ·  Los Angeles · Jul15
monomorphia · Solo exhibition · Athens · Oct14
AVAF10 · Digital Brushes · Athens · Sep14
The Fall Gallery · illustration & ink · Vancouver · Aug13
Born Digital · Theros and Erebus · Amsterdam · Jul13
Rascal Art at Beaumont Studios · Architect,  Conqueror & Divider · Vancouver · Jun13
Emily Carr · Mother & Son, Architect, Conqueror & Divider · Vancouver · May13
The Fall gallery · Vancouver · Nov12
Emily Carr · Conqueror · Vancouver · Aug12
The Fall gallery · Vancouver · Feb12
Athens Video Art Festival · Tena & Gas · Athens · May10
Morley College · sculpture · London · May08
Press
E-flux · Article about Infrahauntologies and Cybersyn 1973/2023 · Jul21
Shoutout Socal · Jan21
LBB · Article about Ayia · May20
Esquire · Interview · Jun19
TheNewCurrent · Interview about Strange Jealousy · Mar19
80 Level · Interview about laser etched project · Dec16
Master & Dynamic · Interview about Geophone · Mar16
Creator's Project · Interview about Geophone · Jan16
Prosthetic Knowledge · Interview about Geophone · Jan16
Creator's Project · Article on Debate · Dec14
Popaganda · Interview about solo art show monomorphia · Oct14
Notes on Design · Interview · Sep10
CGSociety · Article · Apr10
It'sArt Magazine issue 11 · Featured · Sep07
It'sArt Magazine issue 6 · Article about Theros · Sep06
3DWorld · Article about Theros · Nov05
Photographos · Front cover photo · Feb04
Presentations
National Centre for Computer Animation · Presentation · Bournemouth University UK · Mar22
National and Kapodistrian University of Athens · Presentation · Department of Digital Arts and Cinema · Athens · Jun21
Vimeo's Headquarters · Screening and presentation · NY · Jul19
TEDx talk on creative coding and digital tools at Ionian University · Corfu · May19
Institute of Architecture and Media · Lecture · Graz University Austria · Sep17
National Centre for Computer Animation · Masterclass · Bournemouth University UK · Feb16
Digitized15 · Presentation & workshop · Athens · Sep15
Circuits and Currents · Presentation · Athens · Dec14
Animasyros · Presentation · Syros · Oct14
DevHour · Presentation · Mexico City · Sep11
End User Event · Presentations · Utrecht · May09
Positions
Irish Film & Television Academy · Jury member · Dublin · Mar22
NewInc· Mentor · NY · Sep20-22
ÉCU film festival · Jury member · Paris · Mar20-22
School of Visual Arts · Adjunct professor · NY · Sep19-22
National Centre for Computer Animation · Peer assistant · Bournemouth University UK · Sep04